DUE TO THE CURRENT SITUATION, RETREATS FOR 2021 WILL BE ANNOUNCED WHEN TRAVEL CONDITIONS ARE CLEAR. IN THE MEANTIME, CHECK OUT STUART'S DEMO Q & A SESSIONS ON ZOOM OR FOR ONE-TO-ONE SESSIONS, CONTACT STUART.

Spend 6 days painting with Stuart Davies in the glorious light of the French Charentes. Learn the techniques of the masters to free up your style and create impressive landscapes.
We'll retreat at Les Logis des Quatre Puits, a well-appointed French manor dating back 500 years, located in Neuvicq, France . Packages start at just €TBA (Double occupancy room with bathroom shared with one other person. First come, first served.)
What's included:
Tuition & All Materials
Room & Board (includes 5 nights, 5 breakfasts, 5 lunches and 3 dinners – All Vegetarian)
Shipment of Your Artwork When Dry
A Special Souvenir Gift
Airport transport is provided upon request for additional fee. Honestly, renting a car is probably less expensive and far more convenient.
You may be able to extend your visit either arriving early or staying later. Please let us know, and we'll check availability and coordinate on your behalf with the venue.
Are you a Patron? Patrons receive a discount equal to 50% of their total-to-date contributions upon registration.
Extras:
Extra Painting Boards (two included)
Pool towels
Roundtrip Airport Transportation
Additional Nights or Meals
What's Not Included:
Travel & Transportation to and from venue (see extras)
Alcoholic Beverages
2 Dinners (for "nights out" to enjoy authentic French cuisine)
Typical Schedule*:
Day 1
Arrive and unwind.
6:00PM orientation
7:00PM dinner
Day 2
9AM breakfast
10:30AM method preparation and demonstration with Stuart
1:00 lunch/free time
2:30 paint along
5:15 brush cleaning duty
6:00 free evening/dinner out on own for those that wish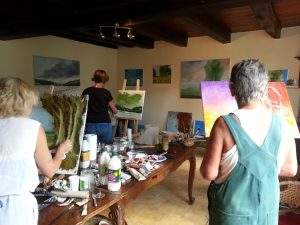 Day 3
9AM breakfast
10:30 painting
1:00 lunch/free time
2:30 painting
5:15 brush cleaning duty and board prep (if necessary)
7 dinner/social
Day 4
9AM breakfast
10:30AM painting
1:00 lunch/free time
2:30 painting
5:15 brush cleaning and board preparation (if necessary)
6 free evening/dinner out on own for those that wish
Day 5
9AM breakfast
10:30AM painting
1:00 lunch/free time
2:30 painting
5:15 brush cleaning
7PM celebration dinner/social
Day 6
9AM breakfast
11:30 check out. Sack lunch provided.
Day X
Treat yourself to an extra night for more time to explore the area or a more relaxed departure (dependent on venue availability).
*Schedule subject to alteration.
VENUE

Les Logis des Quatre Puits
Les Quatre Puits est
17270 Neuvicq
Charentes Maritime, France
+33 (0)546043269
Retreat is limited to 12 participants.
Deposit, Cancellations, Refunds:
Nonrefundable deposit of €TBA holds your retreat space and room selection.
Balance due 8 weeks before event. Due to our obligations to the venue, we cannot offer refunds of refundable amounts with less than 6 weeks notice. Any refunds made will be less any fees associated with payment services or exchange rates.
Travel insurance is a must! Stuart Davies is not responsible for missed flights/connections, cancelled flights, personal emergencies, or acts of nature. In the unlikely event Stuart Davies must cancel the event, you will be refunded the above cost of the retreat only, excluding flights and other incidental costs.
To Register:
Please download and complete the following PDF and return to: paintwithstuart@stuartdaviesfineart.com.

We will confirm your reservation by email as soon as possible so you may submit your deposit and make your travel arrangements. We will gather flight information and arrange other important details 4 weeks ahead of event by email, so please make sure we have your best email for contact. Thank you!'
Special Needs and Accommodations:
While we cannot accommodate food preferences, we will do our best to meet your food allergy or sensitivity needs if you let us know NOW! If stairs are a problem, it is important to let us know now as well. These old French manors rely heavily on stairs!
Apprentice Scholarship:
There may be one spot (dependent upon registrations) for someone to attend as apprentice. This opportunity is dependent upon 11 registrations in order for someone to attend as the 12th participant as apprentice. An apprentice will not be chosen until the retreat reaches 11 registrations. Therefore, it will be assumed that apprentice applicants will only attend the retreat if they are offered the apprenticeship, as a matter of financial need. If you plan to attend anyway, the position is not suited, as you may end up neither registered for the retreat nor be selected for the apprenticeship.
Duties would include but are not be limited to:
daily cleaning of all brushes and proper disposal of "brush soak"
prepping the art space for the following day
cleaning and organization the art space at the end of the day
labeling and organizing completed artworks
In exchange, your retreat would be reduced by the tuition fee of 1000 € . All other costs remain the responsibility of the apprentice. Accomodation will be whichever room remains available. If you would like to be considered, please send me a message with why you would make a good candidate.
A Final Note:
Retreats are meant to be safe, enjoyable experiences for all involved. We reserve the right to ask anyone causing disruption in a belligerent manner towards others or who might be a danger to themselves or other retreatants to leave the premises immediately without refund. We know this won't be you!